Postmodern Jukebox's European tour has recently come to an end. They started their journey early February in the United Kingdom, traveled all across Europe and ended it right back where they started, in the United Kingdom on March 22nd. Haley Reinhart was unable to be apart of the first half of the tour, but later joined them for the second half from March 9th-22nd.
Haley got to sing in places like Germany, France, Czech Republic, the UK, and more! Haley whipped out some of her most memorable American Idol dresses for this tour, taking us all on a trip down memory lane. Maybe you'll recognize some of them, from performances such as "Rolling In The Deep", or "Moanin". Either way, she looked as gorgeous and happy as ever to be on stage!
Over the last few weeks I have gathered the best photos and videos of Haley's performances from this tour. Please watch and enjoy, because you won't regret it!
March 9th – Berlin, Germany:
March 10th – Esch-sur-Alzette, Luxembourg:
March 11th – Lyon, France:
March 12th – Paris, France:
March 13th – Köln, Germany:
March 14th – Frankfurt, Germany:
March 15th (Day off) – New official PMJ video was filmed:
March 16th – Zürich District, Switzerland:
March 17th – Prague, Czech Republic:
March 18th – Warszawa, Poland:
https://instagram.com/p/0Y1h3LNmdI/
March 19th – Ostrava, Czech Republic: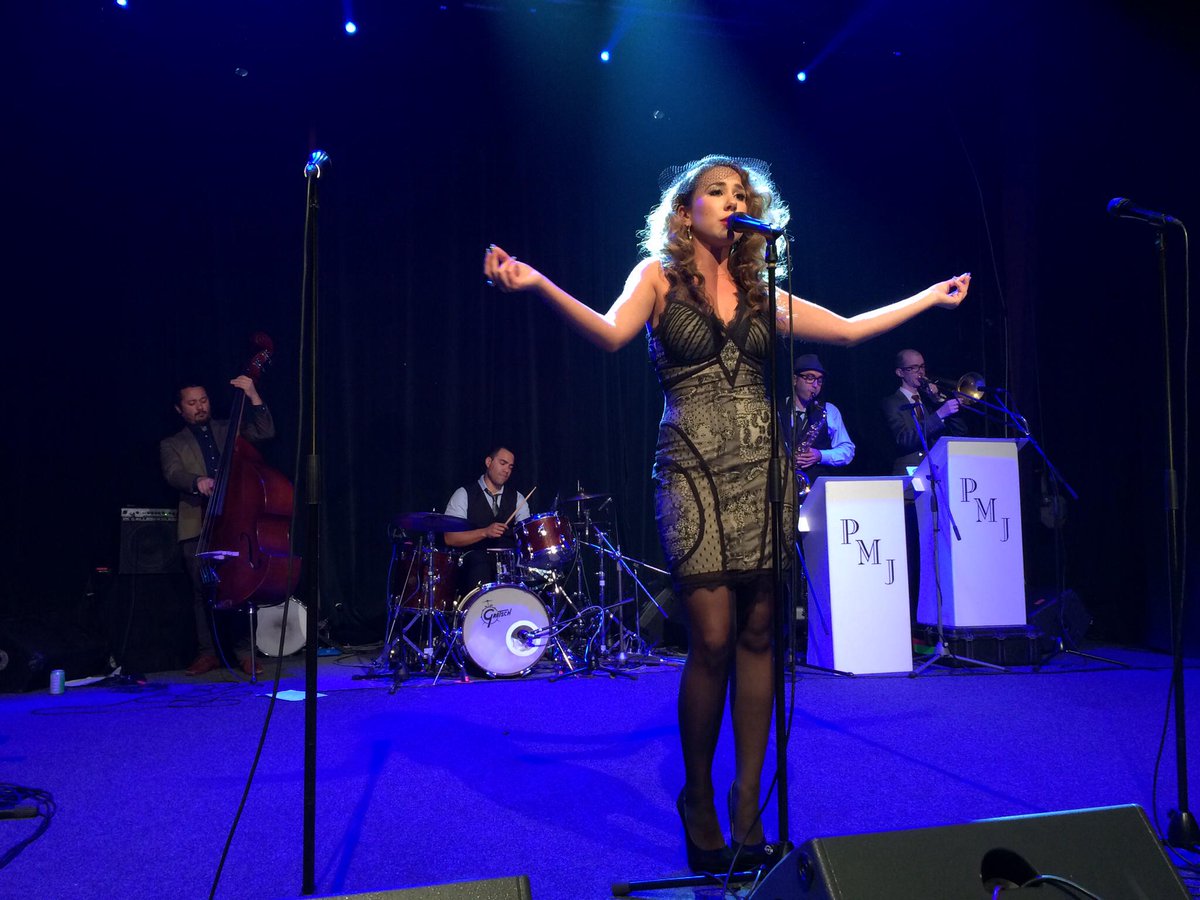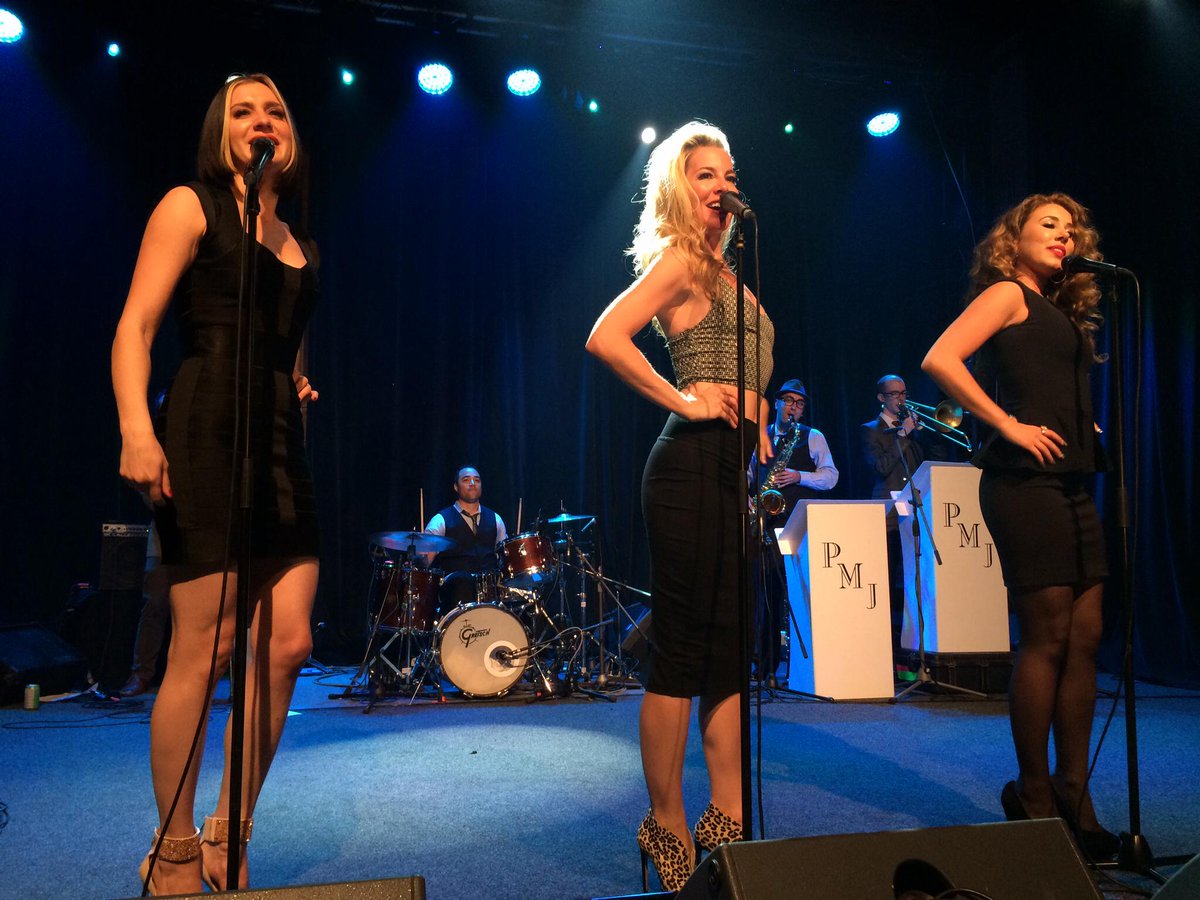 March 20th – Wien, Austria:
March 22nd – London, United Kingdom:
For those who may be interested, I asked fellow big time Halien "@HaleysTusk" (who provided the video above, check out his YouTube channel, filled with tons of awesome Haley videos) who flew all the way from Seattle to London to catch the last show of the PMJ European tour to write a review of the show for everyone to read. Enjoy.
Postmodern Jukebox tour Finale at the Indigo O2, London England
The Show:
When you go to Postmodern Jukebox show, you can expect to be highly entertained with an infusion of talent, humour and energy. Add to that, a final show of the tour in front of the biggest crowd PMJ had ever performed in front of in a major city? You can expect a singularly epic and memorable show. That is what you got the night of March 22nd, 2015 at the IndigoO2 in London.
I got to go to the Meet and Greet before the show, you can sense among the performers they knew how special this was going to be. Don't get me wrong, there were no nerves present, they were all 'cool cats' as we got treated to performances of "Habits" from Haley and "Maps" from Morgan James, Ariana Savalas and Mykal Kilgore at sound check. There was definitely anticipation in the air.
Outside, the anticipation was greater, as PMJ fans began lining up 3 hours ahead of the show, dressed in their finest vintage attire.
There was a 50th Anniversary concert of the remaining members of The Who that was going to be going on at the same time as PMJ's show. Many of the packed crowd in the arena were dressed in Union Jacks, a majority of their fans in the 'older' age range. It wasn't lost on me the difference between the energy of the larger number of fans of the Who to the smaller, yet more enthusiastic fans lining up to see PMJ. Don't get me wrong, there was a wide age range of fans in the PMJ community, I met PMJ fans who were grandfathers, who were going with their daughters, groups of youthful, excited fans, all in great anticipation of PMJ, many had already seen a show on this tour, or the last time PMJ made it through Europe.
Once the Indigo opened their doors, the floor filled up quickly as helpful ushers were all around to assist guests to their seats. You would expect the PMJ fans who would be on the floor to be the ones dressed up in Vintage gear, but as I headed up to my balcony seat, I saw that fans seated up there were also dressed up in Vintage wear. There was a couple who sat behind my seat, the excitement for the show brimming as they attempted to take a selfie of themselves dressed in their vintage attire. I offered to take the picture for them. I had to laugh when the lady handed me her phone to take the picture, as the camera app they had on the phone had a vintage design. The Photo that would come out, would look 'old' or vintage… even their technology had a vintage theme 
. They thanked me for taking the picture and resumed being affectionate with each other.
I decided that my balcony seat was too far, and I wanted to feel the energy that would come from PMJ's show, so I made my way down to the quickly filling up floor in front of the stage. Some thoughts on what I saw.
Haley Reinhart: The world is her Oyster, she sent chills with her stirring performance of "Creep", for me, the best performance of the night (I'm slightly biased 
 ) She displayed her cheeky side mixed with a little irony in her performance of Habits and dove into the fun of All About That Bass as she beautifully harmonized with Morgan and Ariana. She has never disappointed in the many live performances I've seen. Among so much talent, she brought up her game and displayed all of her promise and potential, yet leaving a sense that there's so much more to discover about her.
Casey Abrams: What can I say about this man… Controlled Chaos? Casey has done a TON of touring on his own and has learned to finesse his stage presence, always approaching the edge of insanity but never losing sight of his ingrained musicality, a force to be reckoned with, that you don't mind when he upsets your notion of music until you realise, there is a method to his madness. Always entertaining and always full of energy. Be prepared for a musical work out. PMJ's Tasmanian Devil
Scott Bradlee: The steadying paternal influence of this whole affair. His fingers skipped and flowed over his keyboard effortlessly providing an upbeat, yet loose structure to the show. Having talked to him after the show, I'm struck by his humility, you can see in his eyes the gratitude of seeing his efforts, with his musical family, being rewarded by the response of the fan base he has carefully nurtured. He's not ready to rest on his laurels, striking while the iron is hot, already planning his next step as he readies for a US PMJ tour.
Morgan James: Her cover of "Fooled around and Fell in Love" on youtube strikes me to my core as she weaved a bluesy tapestry of vocal gymnastics. Hearing her sing live was definitely one of the things I looked forward to in this show. She did not disappoint, in her powerful and finessed cover of "Sweet Child of Mine" as she flexed those Juliard trained vocals of hers… As with the other PMJ ladies, her voice was equally spectacular when she harmonized with Haley and Arianna
Mykal Kilgore: I did not know much about Mykal, but Scott perfectly cast him as the MC of the proceedings. The man had the crowd in the palm of his hand with wit, humour, flawlessly moving things along with energy and aplomb.
Ariana Savalas: Of the PMJ ladies, I knew the least about Ariana, but she held her own with the rest, infusing a 'change up' in her performance demeanor. While Haley and Morgan provided powerhouse vocals, Ariana was more subtle, combining a Femme Fatale 'wickedness' and playfulness as a contrast. She was also adept at using humour within her performances to keep the crowd entertained. I met her briefly after the show and I sensed a real sweetness in her as she spoke to us.
The rest of PMJ were also very friendly, the musicians keeping pace with the manic differences in the performers they supported. They followed Scott's lead perfectly, not a sour note or misplaced timing. Adam Kubota and Chip Thomas provided a solid back bone of rhythm while Ben 'The Sax Guy' kept things live and upbeat in the sax section.
Scott's addition of Christopher Erk's tapping energy and the LA Follies' flourishes showed that Scott is mindful of presenting a full colour of experiences and energy you can expect from a Postmodern Jukebox event. That's what you get when you go to a Postmodern Jukebox show, a full showcase of entertainment textures to dazzle your senses. A good time is guaranteed for all.